We are a contractor providing specialized services in the range of disassembly, relocation and installation of machinery and production lines.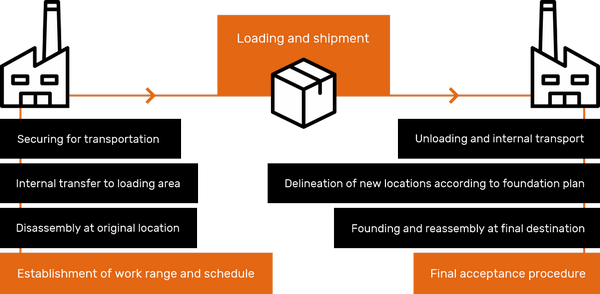 We implement projects comprehensively and accomplish whole process as fast as possible. We understand that relocation processes should be smooth and secure, without negative effects of our clients ongoing activity.
We have an experienced and qualified team equipped with relevant tools necessary to pursue even difficult and complicated operations.
Above goals we achieve through the use of best-practice procedures at the stages of planning, implementation and final acceptance, in particular:
work managment by dedicated Project Manager,
creating and providing to the Customer detailed information of an implementation mode and risk assessment,
agreeing on a schedule and method of work progress reporting,
organization and coordination of particular jobs,
close cooperation with transport companies,
ongoing security check,
performing of all final acceptance procedures agreed with the Client and relevant reports presentation.
Our projects:
So far, we have successfully implemented dozens of projects with various scope of work.
Examples of our projects:
2020
| Job name | Operation range | Performing date | Customer |
| --- | --- | --- | --- |
| Transfer of the injection presses to a new production hall | Disconnection of the machine, securing and internal transport, setting and assembly according to the location plan | 2020 | Sanok Rubber Company |
| Transfer of the production areas to a new hall - stations for cutting and punching rubber profiles, lamination stations, manual varnishing station | Disconnection from the media, securing and internal transport, setting and assembly according to the location plan | 2020 | Sanok Rubber Company |
| Relocation and setting of CNC lathes (8 pcs.) | Disconnection of the machine, securing and internal transport, setting and assembly according to the location plan | 2020 | ADR Polska |
| Unloading and assembly of the elastomer extrusion line | Unloading, securing and internal transport, setting and assembly according to the location plan | 2020 | Sanok Rubber Company |
| Transfer of two plastic extrusion lines | Disassembly of the line, internal transport and assembly according to the location plan | 2020 | Sanok Rubber Company |
| Relocation of 4 STI machines | Disconnection from the utilities, transport inside the hall, assembly according to the location plan, supply and connection of utilities | 2020 | SumiRiko Poland Sp. z o.o. |
| Media supply to 4 LWB injection moulding machines in a new location | Supply of electric cables, cooling water, compressed air. Removal of unnecessary installations | 2020 | SumiRiko Poland Sp. z o.o. |
| Installation of two six-axis robot stations with media and peripherals connection | Unloading, internal transport, assembly according to the location plan and documentation | 2020 | SumiRiko Poland Sp. z o.o. |
| Visual renewal of the production line | Disassembly of used elements, regeneration, repair, assembly, replacement of heat shields with new ones, painting | 2020 | SumiRiko Poland Sp. z o.o. |
| Assembly of a platform for the production line operators | Transport, unloading, internal transport, assembly according to the location plan and documentation | 2020 | SumiRiko Poland Sp. z o.o. |
2019
Job name
Operation range

Performing

date

Customer
Relocation of 4 LWB injection molding machines
Machines disasembly, internal transport and reassembly according to foundation plan
2019
SumiRiko Poland
Unloading and installing CNC lathe
Unloading, internal transport and reassembly according to foundation plan
2019
DRUMMONDS Sp. z o.o.
Unloading and installing ENGEL injection molding machine
Unloading, internal transport and reassembly according to foundation plan
2019
Fibrax Sanok Sp. z o.o.
Machines unloading
Machines unloading and preparing for internal transport
2019
Pass Polska Sp. z o.o.
Implementation of 12 separate projects for various machines and devices
Unloading, internal transport and reassembly according to foundation plan
2019
SANOK RC
2018
-
Job name
Operation range

Performing

date

Customer
Unloading and installing 2 machining devices
Unloading, internal transport and reassembly according to foundation plan
2018
DRUMMONDS Sp. z o.o.
Replacement of rubber compounds production line elements

Disassembly of worn line elements (mixer, cooler, rolling mill, etc.), new equipment unloading, internal transport and reassembly according to foundation plan

2018
SANOK RC
Implementation of 16 separate projects for various machines and devices
Unloading, internal transport and reassembly according to foundation plan
2018
SANOK RC
2017
| Job name | Operation range | Performing date | Customer |
| --- | --- | --- | --- |
| Relocation of cutting body seals device from Germany to Poland | Machines disassembly, securing for transportation and loading, shipment, unloading, reassembly according to foundation plan | 2017 | DRAFTEX AUTOMOTIVE GMBH |
| Implementation of 12 separate projects for various machines and devices | Unloading, internal transport and reassembly according to foundation plan | 2017 | SANOK RC |
| Unloading and installing 2 DESMA 560 injection molding machines | Unloading, internal transport and reassembly according to foundation plan | 2017 | Fibrax Sanok Sp. z o.o. |
| Relocation of 2 vulcanization presses from England to Poland | Machines disassembly, securing for transportation and loading, shipment, unloading, reassembly according to foundation plan | 2017 | BWI UK LTD |
2016
| Job name | Operation range | Performing date | Customer |
| --- | --- | --- | --- |
| Relocation of elastomer injection molding machines to new production hall | Machines disassembly, securing for transportation and loading, shipment, unloading, reassembly according to foundation plan | 2016 | Fibrax Sanok Sp. z o.o. |
| Implementation of 8 separate projects for various machines and devices | Unloading, internal transport and reassembly according to foundation plan | 2016 | SANOK RC |
| Relocation of 5 vulcanization presses and Limberger paint shop from England to Poland | Machines disassembly, securing for transportation and loading, shipment, unloading, reassembly according to foundation plan | 2016 | BWI UK LTD |
Get in touch with us
If you have any question, please don?t hesitate to send us a message